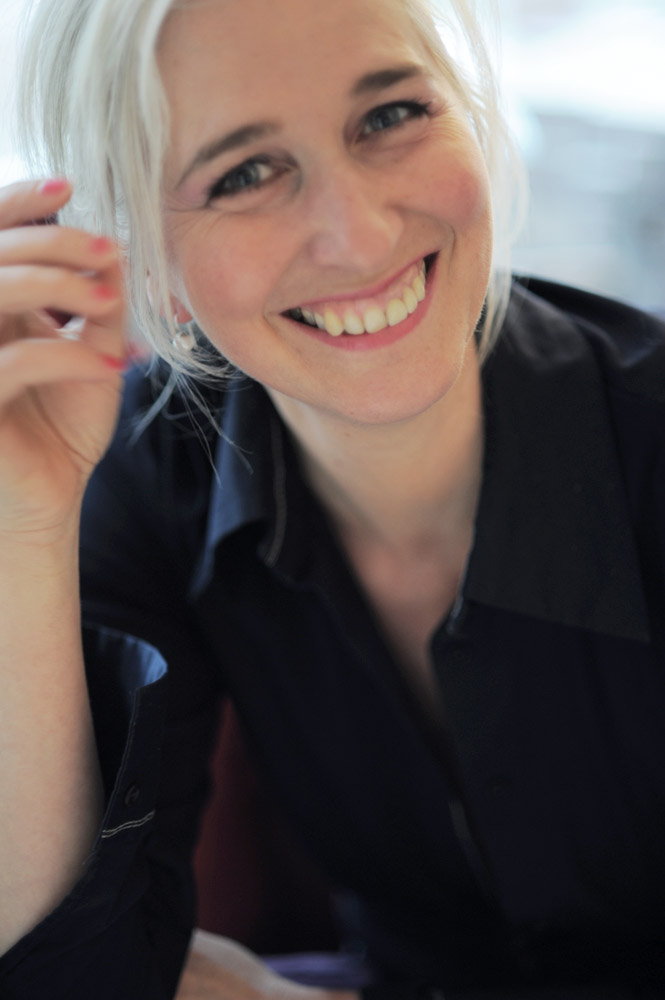 Katharina Oberlik
geb. 1968 , Studium ATFF und ATW in Frankfurt und in Gießen. Mitgründerin und langjähriges Ensemblemitglied bei She She Pop. Kreiert in Hamburg zeitgenössische, interdisziplinäre Produktionen im Kontext von Kunst, Pop und Politik. Co-Regie und Regie beim transnationalen Ensemble Hajusom sowie Theater:Playstation! Dozentin für zeitgenössische Performance an den Theaterakademien Hamburg und Ludwigsburg. Gründerin und Leitung der ghettoakademie Hamburg mit dem interkulturellen Jugendensemble Inner Rise, welches mit Videos, Theaterstücken und interaktiven Performances an die Öffentlichkeit tritt. www. ghettoakademie.de

Katharina Oberlik born in 1968, founding member and over 10 year period – performer with the one and only female german performance-collective She She Pop, now teacher and director for contemporary theatre as well as founder and director of ghettoakademie Hamburg.
Specialized on authenticity on stage, she works with youngsters, amateurs and professionals to create interdisciplinary shows, performances, theatre pieces and Videos, which deal the concerns of our actual society. She cooperates with Hajusom, transnational Ensemble with young Migrants, and is giving further education and workshops in contemporary performance, autobio-graphic theatre, authenticity on stage kreative and group work.
Katharina Oberlik, née en 1968, vit et travaille à Hambourg comme metteure en scène et performeuse. En tant que co-fondatrice et membre de longue date du groupe She She Pop, elle a 
réfugiés. Depuis 2010, elle dirige le ghettoakademie  et développe des performances interculturelles et interdisziplinaires avec des jeunes migrantes. Le productions sont interdisciplinaires, avec le video, le mouvement du corps, le texte et le theatre. Elle enseigne l'art de performance et la mise en scène à l'Ecole supérieure de Hambourg et de Ludwigsbourg.Le centre de son travail repose sur le développement de l'acteur, l'acteur qui élèvent la voix et s'inspire de sa vie pour reformuler une nouvelle vision du monde.